For Immediate Release:
January 5, 2017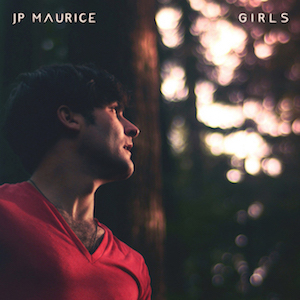 JP MAURICE SET TO RELEASE NEW EP GIRLS JANUARY 13th
VANCOUVER RELEASE SHOW @ THE BILTMORE JANUARY 14th
"Sassy, Pop, and Soulful are his lyrics. Mischievous,Thoughtful & Charismatic define his personality."  – Fresh Independence
"When you combine hip musicality with heartfelt lyrics, you can't help but write songs that people will be singing all day and listening to over and over again." – The Cardinal Press
(Vancouver, BC) 
–  After dealing with some adversity in his life over the last few years, Vancouver musician/producer JP Maurice is working towards a prosperous 2017 with the release of some brand new music! JP Maurice is set to independently release his new EP
Girls
 on January 13th and will celebrate with a release party at The Biltmore Cabaret on January 14th.
Click here
to listen to the first single
'Shapeshifter'.
After touring across Canada and Europe, and then taking home 2nd place in the PEAK Performance Projectradio contest in 2015, a loss in the family turned Maurice mostly inwards and he focused on channeling his emotions into his art. He made the decision to invest in his own studio (Blue Light Studio), which allowed for late night collaborations, producing other artists, and creating endless song ideas. The result is the Girls EP, which sweeps from cinematic pop-noir into slinky neo-soul, all tied together with Maurice's powerfully emotive vocals. It's a modern sound that capture timeless sentiments – love, loss, and the twists and turns in between.The Girls EP is the follow up to JP Maurice's 2013 full-length album The Arborist, which marked his official debut as a solo artist after getting caught in major label red tape with his previous band that went simply by Maurice. The EP features a number of collaborators including producers Russell Broom and Ted Gowans, and it continues where The Arborist left off taking the listener straight back into sexy pop-noir territory.
"I do think I have settled or delved into that sound more," said JP Maurice. "But Girls also sees me sounding a little more optimistic with a song like 'Go' or rockier with 'Goodbye'. The songs were all mostly written or built using the piano as the fundamental instrument which differs from the past when I was using the guitar in that way. There is very little electric guitar on Girls."
JP Maurice will play a handful of BC tour dates and release the video for 'Shapeshifter' in the upcoming weeks. He plans to release his 2nd full length album entitled Boys later this year. The Girls EP will be available on Spotify, Apple Music/iTunes, and other digital retailers/streaming services on Friday, January 13th. For more info and the most up to date tour listings, please visit: jpthemaurice.com
JP MAURICE // UPCOMING TOUR DATES
January 14 – Vancouver, BC @ The Biltmore Cabaret (Release Show w/ Peach Pit, Emily Rowed)
Get Tickets
January 27 – Kelowna, BC @ Doc Willoughby's w/ Northcote
January 28 – Kamloops, BC @ The Dirty Jersey w/ Northcote
January 29 – Kelowna, BC  @ BNA Brewing Co. (Fireside Session)
February 11 – Vancouver, BC @ Blue Light Studio (Blue Light Session)
JP MAURICE – GIRLS EP TRACK LISTING 

RELEASE DATE: JANUARY 13, 2017 (Independent)
1. Standstill
2.  Go
3.  Goodbye
4.  Light Switch
5.  Big Change
6.  Shapeshifter
​